January - Wind, fire, dust, and snow on Jan. 14-15
A very strong cold front moved across the Plains on the 14/15th (Figure 1). High winds up to 60-70 mph were measured across much of western Kansas. As a result, dust storms were reported in several counties with zero visibility, accidents, and road closures as a result. As the storm system moved off to the east, a secondary front brought light snow to northeast Kansas with 1-2" reported.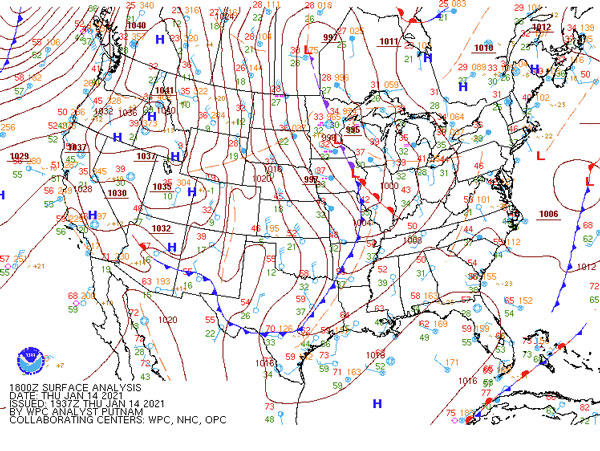 Figure 1. Surface map on January 14. Source: NOAA WPC.
February - Extreme record cold

An incredible number of record low temperatures (283) were set during a cold snap that lasted from February 5 to the 21st. Eight locations broke all-time record low temperatures (Figure 2). The coldest morning was Feb. 16 when temperatures dropped as low as -29.6 °F in Republic County with -29 °F in Washington and Sherman County. Wind chill values as low as -45 °F were measured in the northwest. Many locations spent weeks with temperatures below freezing and several days below zero. Lastly, snow was on the ground for much of the state with several light-to-moderate snow events during the cold snap.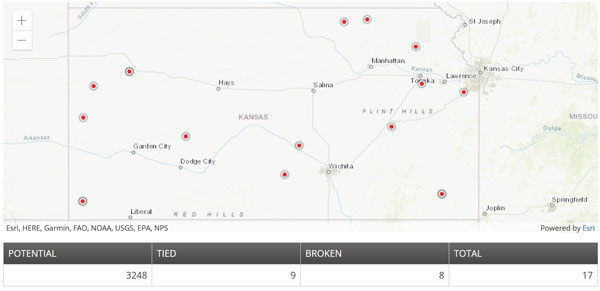 Figure 2. All-time record coldest minimum temperatures tied or broken in February 2021. Source: NOAA NCEI.
March - Mid-month rainfall

After a dry start with wildfires reported in northcentral and northeast (Crawford Fire southwest of Topeka on March 8 was a notable fire), mid-month rains provided much needed drought relief for the state. Moderate-to-heavy rains brought 226% of statewide normal rainfall for March (Figure 3). This resulted in the fourth wettest March on record compared to the last 126 previous years.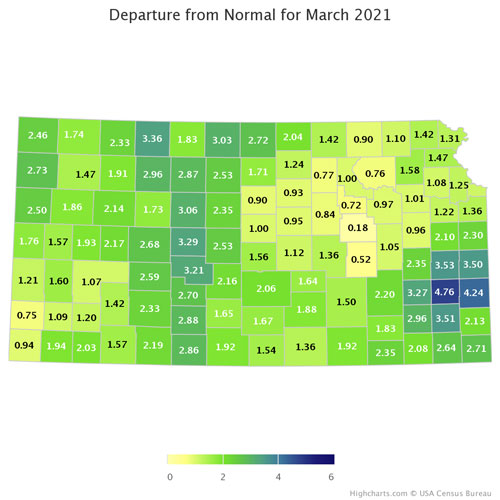 Figure 3. Average departure from normal for precipitation at the county level for March. Source: Kansas State Climate Office.

April - Mid-month cold and snow

After a wet March, April was dry with much of the state only receiving a third of their monthly precipitation. In addition, it was cooler than normal, highlighted by a brief cold period mid-month. Forty-eight record low minimum temperatures were broken between April 18-22, with values as low as 15 °F. In addition, a late-season snow storm impacted much of I-70 and northward (Figure 4). Highest snow totals were up to 6" in north central Kansas.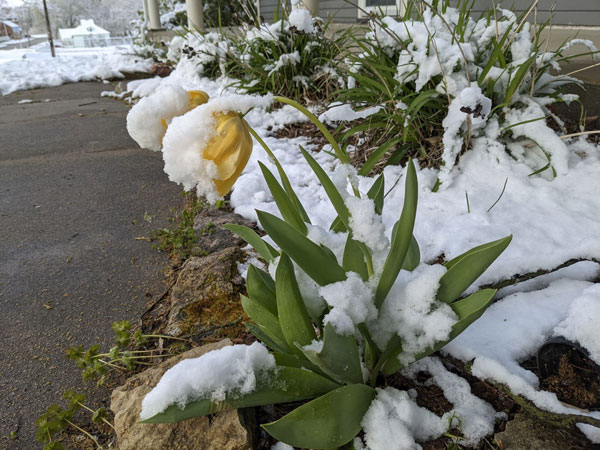 Figure 4. Snow in Saint George, KS on April 20, 2021.

May - Heavy rain and severe storms
Storm season ramped up the second half of May with numerous tornadoes and other severe weather reports. This activity ended a streak for much of south-central Kansas (Wichita's National Weather Service warning area) of no tornadoes at 611 days! Nearly doubling the old tornado-less record for that area (Figure 5). In addition to severe weather, flooding was also prevalent. Tribune measured over 5.5" on the 16th making it the second highest precipitation ever recorded in a day there. Paradise Creek near Natoma overtopped its banks with significant flooding, closing roads, and inundating homes.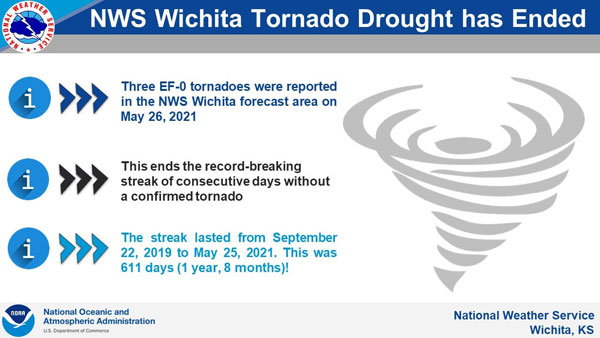 Figure 5. National Weather Service graphic about the tornado-less streak for south central Kansas. Source: NOAA NWS.
June - Wet and stormy end to the month
After a mostly dry start to the month and hot temperatures mid-month, June finished wet. Widespread precipitation focused on eastern Kansas resulted in weekly totals over 5-7" in numerous locations (Figure 6). Flooding was reported at several locations. In addition, several severe wind episodes resulted in damage throughout the state, with multiple measured gusts over 70 mph. June observed 149 severe wind reports across the state, nearly double the monthly average. However, no tornadoes were reported for the month, an unusual feat for June which averages around fifteen.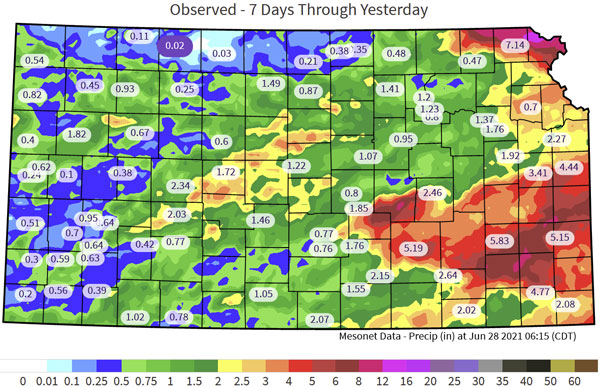 Figure 6. Seven-day precipitation summary ending on June 28, 2021 from the Kansas Mesonet.

July - Cooler than normal temperatures
Temperatures are usually warmest in July and August for Kansas. However in 2021, temperatures struggled to reach average high temperatures for much of the month. Growing degree accumulations were a concern for much of the state with the cooler weather. While there was a warm period to finish July, statewide average temperatures for the month were 38th coldest in the last 127 years (Figure 7).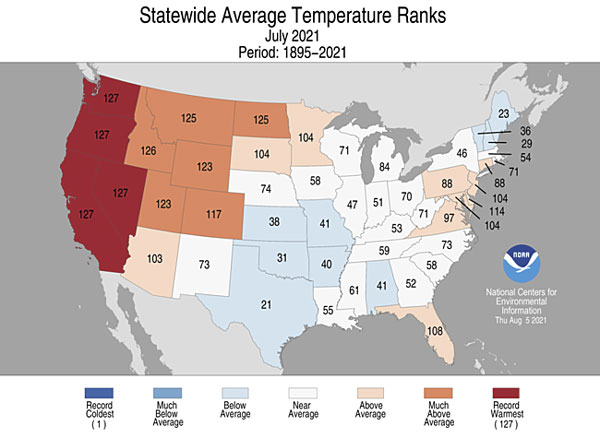 Figure 7. July 2021 state average temperature rankings. Source: NOAA NCEI.

August - Small storms, big impact
Several isolated supercell thunderstorms occurred on the August 10 and August 15 over west and central Kansas (Figure 8). The storms produced severe winds in excess of 75 mph and hail as large as baseballs. Building and crop hail damage were reported in Mitchell, Ford, and Rice counties. In addition, train cars were flipped in Rice County from very strong winds.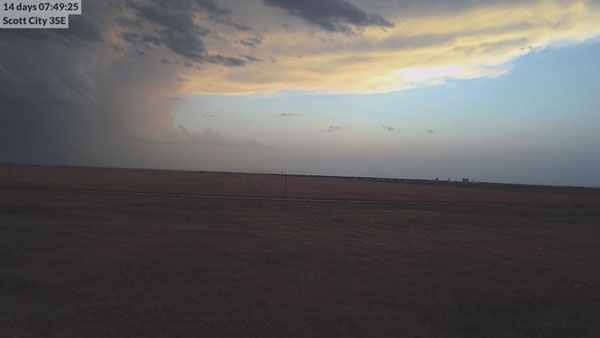 Figure 8. Isolated thunderstorm as viewed from Scott City 3SE Mesonet's webcam August 11, 2021.

September - Heavy rains but dry
Highlights for September were bookended by heavy rain events to start and finish the month. However in between, dry and warm conditions prevailed and drought continued to persist. Early September rainfall was focused over the Flint Hills and eastern Kansas where as much as 7" was reported. However, dry soils soaked up the moisture readily and impacts were short lived with very warm/dry conditions for much of the month (Figure 9). Another widespread rain event occurred on Sept. 29, with much of western Kansas receiving an inch and highest amounts 5" in Barber County.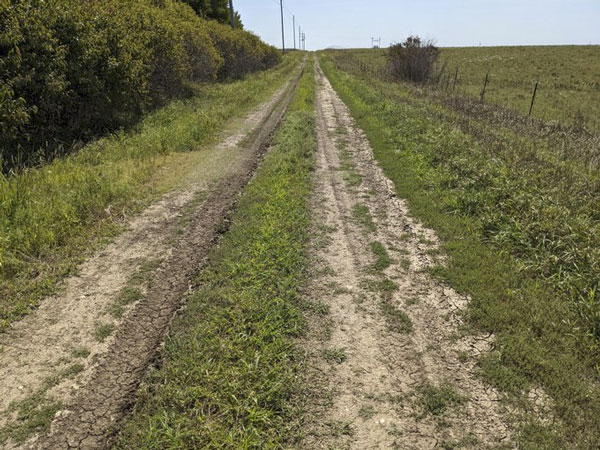 Figure 9. Morris County dirt road less than a week after a 5-7" rainfall event on September 8, 2021.

October - Later than normal freeze
October 14 and 16 brought the first sub-32 °F readings of the fall for northwest and western Kansas respectively. This was later than normal, with a longer than average growing season. Much of the central and eastern part of the state didn't see a freeze this month. In fact, these areas didn't record the end of their growing season until mid-November. This was the latest on record for several locations and resulted in one of the longest growing seasons for Manhattan (Figure 10).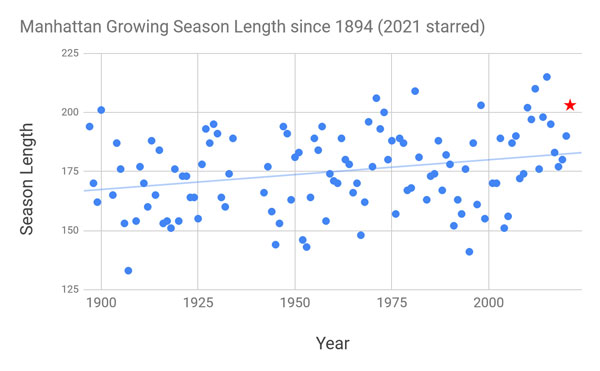 Figure 10. Manhattan growing season length since 1894. Source: Kansas State Climate Office.
November - Dry and very warm with drought expansion
As the state begins to enter the driest time of the year, it becomes more difficult for drought conditions to improve. However, almost no moisture occurred in the western half of the state in November. In addition, the latter half of the month initiated a prolonged period of much above-normal temperatures that continued into December. Combined with periods of gusty winds, moisture demand was significantly increased. Extreme drought was introduced in the southwest. Additionally, increases in severe, moderate drought and abnormally dry conditions also occurred in November (Figure 11).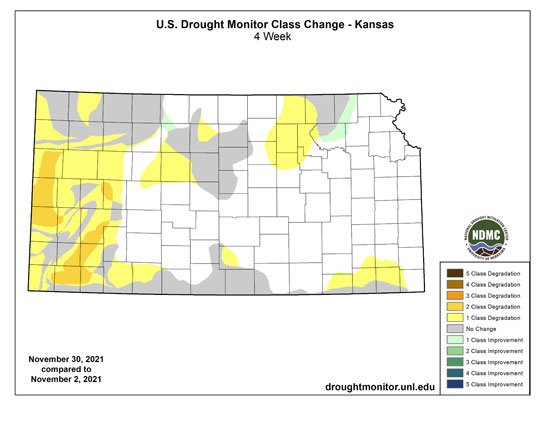 Figure 11. Change in drought status from the beginning to the end of November 2021. Source: droughtmonitor.unl.edu

December - Historic wind storm
A historic storm developed in eastern Colorado, moved through Kansas and into central Nebraska. Winds increased quickly in the morning out of the south, becoming southwest by mid-day. A dryline moved east across Kansas with widespread non-thunderstorm gusts of 80 to100 mph. Significant blowing dust resulted in zero visibility and road closures for all of western Kansas. Over 160,000 acres burned in at least 18 large wildfires. The largest, the Four Counties Fire, burned 120,000 acres within Rooks, Ellis, Russell, and Osborne counties. Severe thunderstorms developed in central Kansas and impacted northern and eastern portions of the state with 94 wind reports. There were six tornado warnings, the highest ever in any December, but no tornadoes.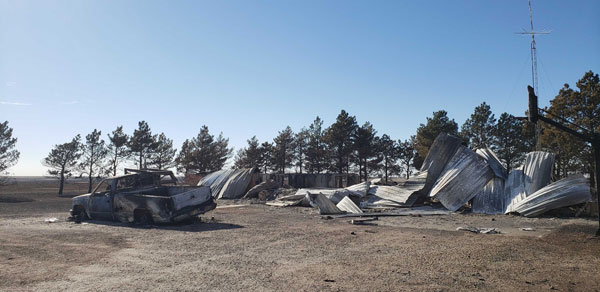 Figure 12. Structure loss on the South Wichita County wildfire. Source: Kansas Forest Service.
Christopher "Chip" Redmond, Kansas Mesonet/Weather Data Library
christopherredmond@ksu.edu
Tags: weather summary climate severe weather