Be sure to get registered to attend one of the 2021 Crop Pest Management Schools scheduled in December. This year, two schools will be offered in the traditional, in-person format.
A third school will be delivered in a virtual format.
Each school will start at 7:50 am with registration and conclude at 5:00 pm. A lunch will be provided to all participants that attend an in-person school. The cost to attend either of the in-person events is $50 if registered by Dec. 1. After Dec. 1, the cost will be $75. The virtual school fee is $75 and you must be registered by Dec. 17.
Each school will feature a variety of topics on weed control, insects, and diseases. Detailed agendas for each school can be viewed at: https://www.sunflower.k-state.edu/agronomy/
The dates and locations of each school are:
December 8 –Colby, KS
City Limits Convention Center
2227 S. Range Ave.
December 9 – Great Bend, KS
Knights of Columbus Hall
723 Main St.
For the in-person schools, please register by December 1 at https://www.sunflower.k-state.edu/agronomy/ . After December 1, you can register at the door.
December 21 – Virtual Program
If you choose to attend virtually, you will need an internet-connected device, such as a laptop, desktop, or tablet at your home and/or at your workplace.
The following is required:
only one person per computer
good internet connection
audio (from the computer speakers, microphone port, or via telephone)
downloaded application of Zoom on your device (to download, visit https://zoom.us/)
For the virtual school, please register by December 17 at https://www.sunflower.k-state.edu/agronomy/ .

Commercial applicator and Certified Crop Advisor credits have been applied for.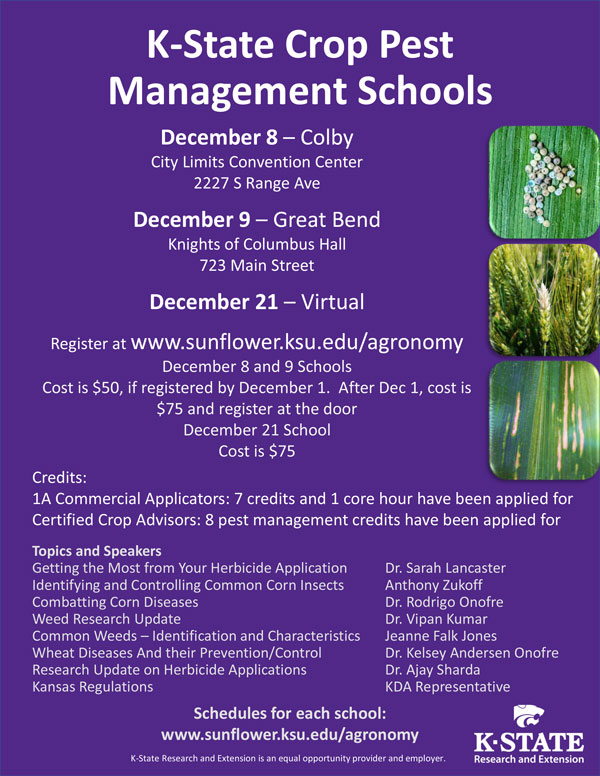 Tags: Crop Pest Schools