An eUpdate article published in mid-October discussed the average freeze dates for Kansas. Since then, those in western Kansas have observed substantial time at or below 32°F. While some areas in the central/east have observed a freeze, they haven't spent much time below the threshold and it is mostly in localized areas. Areas of Kansas that haven't had a freeze yet this fall have had a growing season around 200 days (Figure 1). These locations sit on higher terrain, while the lower valleys around them have a colder microclimate (for example, Jewell in north central compared to Scandia and Belleville).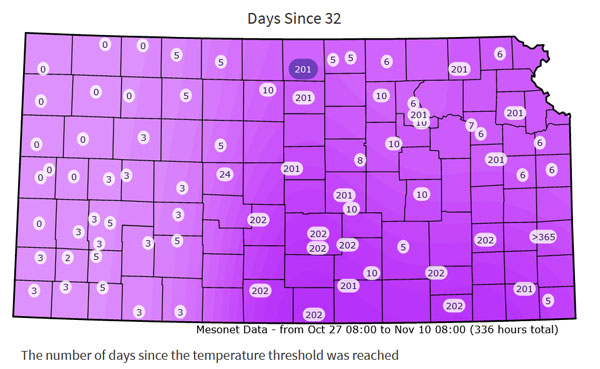 Figure 1. Days since last freeze as tracked by Kansas Mesonet as of November 10, 2021 (http://mesonet.k-state.edu/airtemp/min/hoursbelow/#mtIndex=6&tab=download-tab).

As of November 10, 2021, 20 stations on the Mesonet have yet to record a freeze (Table 1). The furthest right column in Table 1 shows the climatological latest freeze on record from the nearest climate station from the National Weather Service Cooperative Observer (NWS COOP) network. These NWS COOP stations must have at least a 30-year record to be considered a climate station. Of note, Lorraine and Jewell are already beyond the latest freeze on record. In addition, Corning 2NW, Lake City, Mount Hope, Hutchinson 10SW, Pretty Prairie, and Manhattan have their latest freeze on record from the 11-15th of November, a time frame rapidly approaching.

Table 1. Freeze climatology from the Kansas Mesonet. Data found by scrolling down to the "table" option on this webpage: http://mesonet.k-state.edu/airtemp/min/hoursbelow/#mtIndex=6&tab=table-tab.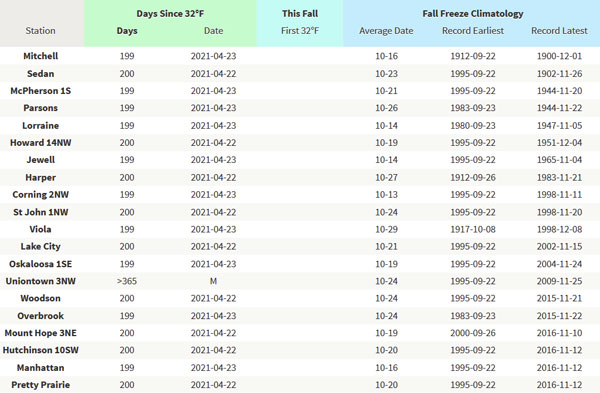 Tracking growing season duration
At many locations in Kansas, growing season lengths have been slowly increasing in recent decades. On average, seasons have increased as much as 20-30 days over the last 100 years. Granted, a longer growing season requires an early last spring freeze - so both fringe seasons need to be warmer than normal to extend the growing season. While spring 2021 consisted of an almost exactly average last freeze, the fall has been much warmer. Statewide both September and October averaged 3-4°F warmer. This has resulted in several locations likely to see their latest freeze on record, including Manhattan, and top 5-10 longest growing season on record for other locations. These longer warm seasons result in continued growth, increased moisture demands, and additional pest concerns. One good example is the recent armyworm infestations. The late fall freeze allowed for another entire growth cycle by this nuisance pest that presented issues to yards and crops in the east.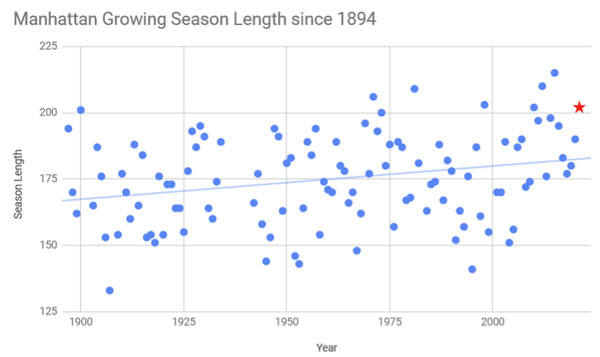 Figure 2. Growing season lengths since 1894 at Manhattan, Kansas. The current year, as of November 10, is highlighted with a red star. 100+ year trend overlaid. Source: ACIS, NWS COOP.

Will a freeze record be broken in your area?
Colder temperatures are on the horizon though! While some areas have been doing everything possible to avoid the freezing mark, the seasonal decrease in temperatures have continued across the state. As a result, it will be easier to reach the freezing mark as we approach mid-November. The forecast (Figure 3) calls for freezing temperatures statewide as early as this coming Saturday morning, November 13. A freeze on this date would close the growing season before it could be the longest for several locations. However, it would be the latest freeze on record for Corning 2NW, Mount Hope, Hutchinson 10SW, Pretty Prairie, and Manhattan. This isn't the first time sub-freezing temperatures have been forecasted this fall. Previous forecasts however, were all influenced by wind and clouds which often keep temperatures warmer. Neither are forecasted for Friday night. Will all the stations observe their first freeze this weekend? Stay tuned to the Mesonet Freeze Monitor (http://mesonet.k-state.edu/airtemp/min/hoursbelow/#mtIndex=6) to find out!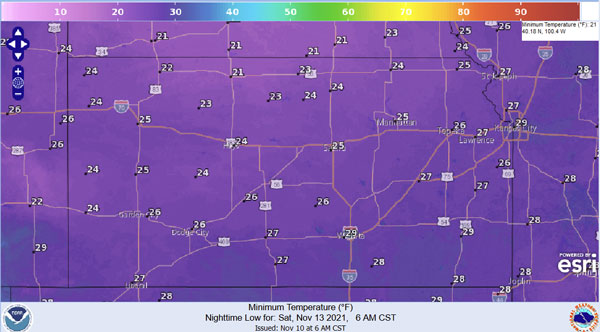 Figure 3. Saturday morning (6am) November 13 forecasted low temperatures from the National Weather Service issued at 6am November 10 (https://digital.weather.gov/).
Christopher "Chip" Redmond, Kansas Mesonet/Weather Data Library
christopherredmond@ksu.edu
Tags: weather freeze Climate growing season freezing temperatures