January 14 marked the halfway point of the meteorological winter of 2022-2023, which lasts from December 1 through February 28. For those who like snow, there hasn't been much in Kansas this winter. In this report, we take a look at the snow amounts thus far and how they compare to what normally falls in meteorological winter.
The amounts listed in Table 1 are the snow totals from December 1, 2022 through January 17, 2023, along with the normal snowfall for that same 48-day period. Of the 25 sites listed, only two of them have had above normal snowfall: Goodland and Oakley (shaded in blue). Northwest Kansas is the only part of the state where there has been meaningful snowfall this winter. Cheyenne County in far northwest Kansas has had snow on the ground for the last two weeks after as much as seven inches of snow fell on that area on January 3. Of the remaining 23 sites, only five of those have had at least 50% of their normal snowfall amount (shaded in orange). Interestingly, three of those are in southeast Kansas, an area that typically receives the least snow in the state. Four sites have had just a trace of snow, and in Horton, there has been no snow at all this winter.
There is still plenty of time to up these snow totals and bring them closer to normal, as well as add some much-needed moisture to a drought-plagued Kansas in the process. Temperatures are forecast to be below normal for the remainder of January (Figure 1), so all we need is some moisture to fall through cold air to generate some snowfall. There are potentially some snow chances in the next few days, as soon as this Saturday, Jan. 21, across parts of the state. A return to a more wintry-looking scene may be just around the corner, but as we all know, forecast models can and will change, so check your local forecast. You can also check out the Kansas Mesonet's web page (mesonet.k-state.edu) to monitor conditions at over 75 sites around the state.

Table 1. Snowfall for various sites in Kansas during meteorological winter 2022-2023, as of January 17, 2023. Normal amounts listed are for the same 48-day period and based on the period 1991-2020.
City

County

Dec 1, 2022-Jan 17, 2023

Actual Snowfall (inches)

Dec 1-Jan 17

Normal Snowfall (inches)

Ashland

Clark

Trace

4.1

Atwood

Rawlins

5.7

6.6

Chanute

Neosho

3.2

5.0

Coffeyville

Montgomery

2.2

4.1

Columbus

Cherokee

2.6

3.6

Concordia

Cloud

Trace

7.3

Cottonwood Falls

Chase

2.1

5.5

Dodge City

Ford

0.8

5.9

Elkhart

Morton

Trace

7.0

Goodland

Sherman

11.2

7.5

Hays

Ellis

0.5

4.8

Horton

Brown

0.0

4.8

Lakin

Kearny

1.0

6.9

Lawrence

Douglas

1.0

4.0

Manhattan

Riley

1.6

7.2

McPherson

McPherson

2.0

5.0

Medicine Lodge

Barber

Trace

2.9

Oakley

Logan

7.0

6.9

Phillipsburg

Phillips

0.3

4.5

Topeka

Shawnee

2.5

6.5

Tribune

Greeley

1.1

6.0

Utica

Ness

0.7

5.3

Wallace

Wallace

3.4

7.1

Washington

Washington

0.8

4.3

Wichita

Sedgwick

3.0

4.4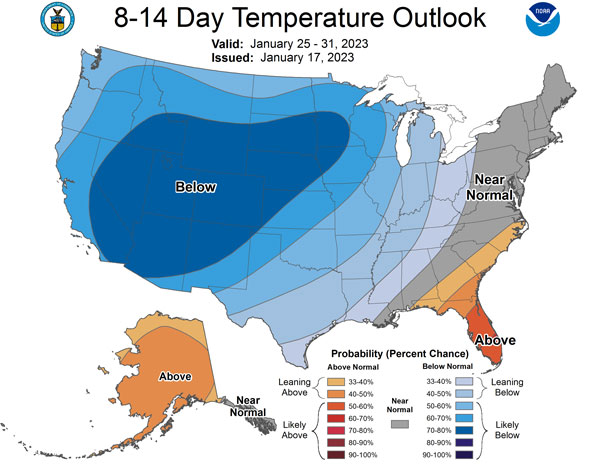 Figure 1. The Climate Prediction Center's 8 to 14-day temperature outlook for the period January 25 through January 31, 2023.
Matthew Sittel, Assistant State Climatologist
msittel@ksu.edu
Christopher "Chip" Redmond, Kansas Mesonet Manager
christopherredmond@ksu.edu