This article provides a short month-by-month summary of the notable weather events that took place across Kansas in 2022.
January – Heavy snow in western KS
Northwest and west central Kansas were the only two climate divisions to have above-normal precipitation, thanks in part to a heavy snow event that affected the western half of the state on January 25 and 26. An amazing 27 inches of snow fell in Wallace County at Mount Sunflower, Kansas' highest point at just over 4,000 feet. More impressive, the snow fell in just 24 hours, making it one of the heaviest 1-day snowfall events ever recorded in Kansas. It took over 2 weeks for all the snow to melt at Wallace, where 17 inches of snow was measured.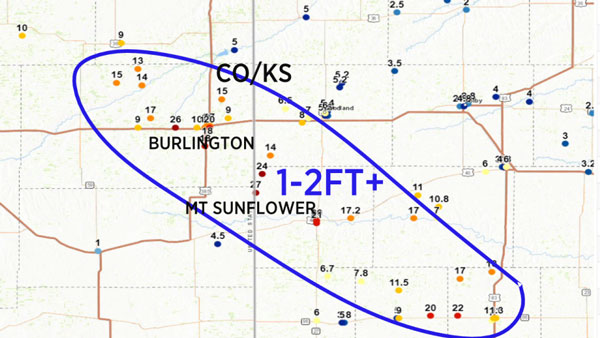 Figure 1. Snowfall totals from the January 25-26 storm. Source: KDVR.com.
February – Deep freeze to end the month
With respect to temperatures, February was the most below-normal month of 2022. Temperatures were actually above normal for much of the month, but a late cold snap pushed Kansas into a deep freeze, dropping temperatures 15 to 30 degrees below normal. Over 70 new daily record lows were recorded between the 23rd and 25th. Elkhart set two new daily record lows and tied a third during this cold spell, with lows ranging from -1°F to -6°F.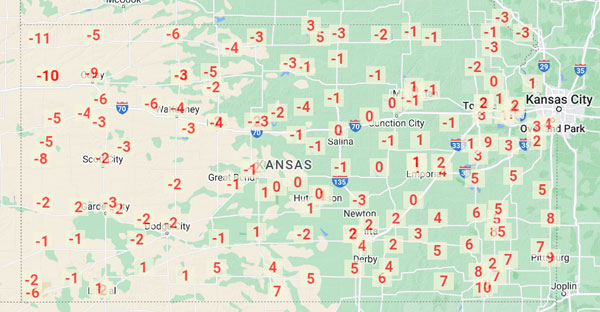 Figure 2. Map of the coldest temperatures recorded in Kansas between February 23 through 25, 2022. Source: scacis.rcc-acis.org.
March – Very warm start followed by snow
The first four days of the month were very warm. Highs in the 80s were reported at 70% of the Kansas Mesonet sites on March 2. Emporia's high of 86° was a new daily record high by 11 degrees and, along with Olathe-Johnson County Executive (84°) and Topeka (84°), all three sites set new marks for warmest temperatures so early in the calendar year. A large wildfire started on March 5 in Reno County, east of Hutchinson, and spread into Harvey County. Over 12,000 acres were burned, and one person was killed. Containment of the fire was assisted by snowfall that accompanied the passage of a strong cold front. Hutchinson reported about 1.5 inches of snow from the event, but there were higher totals; around 5 inches in the Manhattan, Abilene, and Salina areas.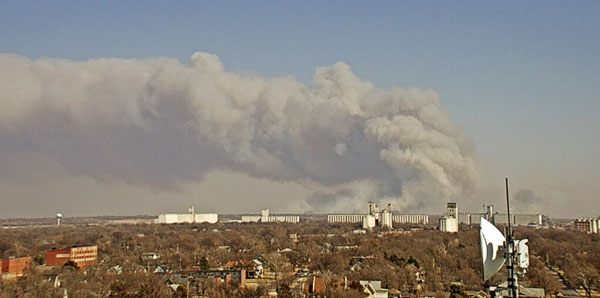 Figure 3. Wildfire east of Hutchinson, KS, as captured on March 5, 2022 by a camera atop the First National Bank building in Hutchinson.
April – Lots of wind
On average, April is the windiest month in Kansas, and 2022 was no exception. It was the windiest April on record (dating back to 1948) at Goodland, with an average wind speed of 17.7 mph. Salina also recorded its windiest April, averaging 15.2 mph. The average peak wind gust across the Kansas Mesonet during April was 55 mph. Five sites had a gust over 70 mph during the month. Three of those five occurred on April 22 at Colby (74 mph), Gove 5SE (Gove County, 73 mph), and Russell Springs 3SW (Logan County, 71 mph). The other two occurred on the 29th: Mitchell (74 mph) and Hays (83 mph). A severe weather outbreak occurred that evening, resulting in 17 sightings of tornadoes in eastern Kansas, including an EF3 tornado in Andover. There was also 4-inch diameter hail in Dickinson County near Enterprise.


Figures 4. Average April wind speed for the month at Goodland (upper panel) and Salina (lower panel), 1948-2022. Source: Iowa State University
May – Rain for the east
May was the wettest month of 2022 in Kansas. The average statewide precipitation was 5.37 inches, or 128% of normal. While the three western divisions were all below normal for the month, there was ample rainfall in the east, particularly in east central and southeast Kansas. Wichita measured 12.95 inches of precipitation, their second wettest May in 134 years of record keeping. Topeka's total of 11.86 inches was the third wettest in 135 years. Jefferson County recorded 14.52 inches of precipitation, the highest total of any observing site in the state. May 4th was one of the rainiest days. Precipitation was heaviest in the southeast, when repeated rounds of storms dropped from 2 to over 7 inches of rain. The cooperative observer 2 miles northwest of Parsons measured 7.75 inches of rain for the 24 hours ending at 8 am on May 5. Numerous flash flood warnings were issued for southeast Kansas.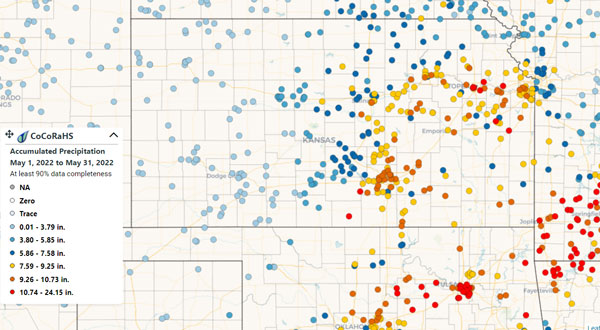 Figure 5. Total precipitation for the month of May across Kansas, as recorded by CoCoRaHS observers. Source: www.cocorahs.org

June – Extreme heat for western Kansas
A heat wave affected western Kansas from June 10 through June 14. Multiple days of highs over 100° were observed in many locations. The highest temperature in Kansas during this period was 111° at Atwood (Rawlins County) on the 14th. The unusual aspect of this heat wave was the very warm overnight lows. Dodge City fell to only 83° on the 13th, which was the warmest low temperature ever recorded on any day in over 140 years of record keeping. The Animal Comfort Index (ACI), a measure of the discomfort felt by livestock exposed to outdoor conditions, climbed to over 120° in many locations. Livestock exposed to the dangerous heat during the daytime were unable to cool off sufficiently overnight, and after multiple days of these conditions, thousands of cattle perished in southwest Kansas.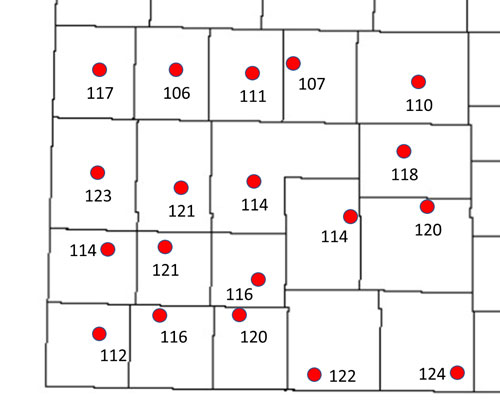 Figure 6. Animal Comfort Index readings (°F) across southwest Kansas at 4 pm CT on June 11, 2022. Indices derived from Kansas Mesonet observations at the plotted locations.
July – More hot weather
There were six days between June10 and 23 where more than half of the 79 Kansas Mesonet sites recorded daily high temperatures at or above 100°F. The July 10, 14, 15, and 19 saw at least one Mesonet site exceed 110°. The hottest reading amongst those days was 112° at the Lake City site on the 19th, which tied for the hottest temperature of the month with co-operative observers in Kiowa, Ashland, and Webster Dam (July 14).
South central and southeast Kansas both had less than half their normal rainfall during the month. The Drought Severity Coverage Index (DSCI), a composite measure of drought conditions across the state, began to increase in July. It jumped from 148 to 227, as below normal precipitation coincided with hot temperatures. Conditions in parts of Chautauqua, Montgomery, and Labette counties worsened from drought-free to D3 during July.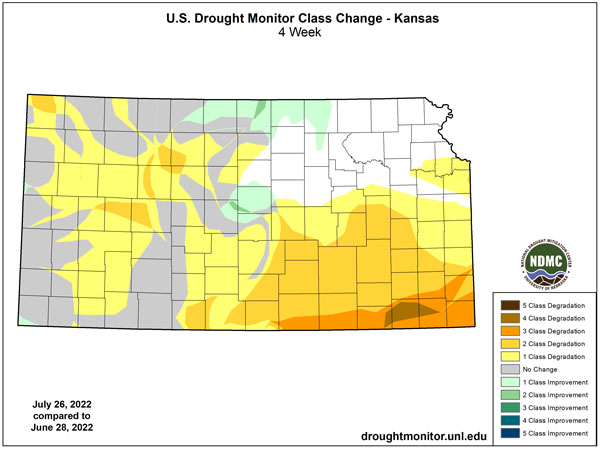 Figure 7. Change in drought status category across Kansas during July, 2022. Source: droughtmonitor.unl.edu
August – A repeat of July
Five of the nine climate divisions in Kansas recorded one of their 10 driest Augusts on record, dating back to 1895. Southwest Kansas ranked the highest (2nd driest), followed by south central (4th), north central (5th), west central (5th) and northwest (6th). Monthly rainfall totals under half an inch were a common occurrence in the western half of the state. Medicine Lodge had just 0.05 inches of rain for August. Other very low totals include Lakin (0.10 inches), Garden City (0.16 inches), Smith Center (0.26 inches) and Dodge City (0.32 inches).
To make matters worse, the first half of the month was quite hot. During the first half of August, there were eight days when 30 or more of the 79 Kansas Mesonet sites reached at least 100°. Webster Dam in Rooks County hit 113° on the 7th, the year's hottest temperature in Kansas.
Table 1. Average number of days in meteorological summer (June 1-August 31) with highs at or above 90°, and the count for 2022, for selected Kansas locations.
| | | |
| --- | --- | --- |
| Location | Average | 2022 |
| Topeka | 40 | 57 |
| Wichita | 49 | 73 |
| Dodge City | 50 | 71 |
| Goodland | 44 | 57 |
| Chanute | 46 | 76 |
| Manhattan | 47 | 43 |
| Salina | 54 | 57 |
| Hill City | 51 | 66 |
September – Still hot and dry
The first two-thirds of September were very warm, with highs mainly in the 90s for much of the period. The hottest stretch was the September 18-20, when highs over 100° were observed in many areas. Ellsworth reached 104° on the 18th. Russell hit 103° on the 19th, as did Winfield and Chanute on the 20th. Over 150 daily record highs were set during this three-day period.
All climate division were also below normal for precipitation. When taken as a whole, September was the 18th warmest and 14th driest on record. This led to further expansion of drought conditions across the state. The area of Kansas rated as exceptional drought (D4) jumped from 10% to 25% during September.
Table 2. 2022's average seasonal precipitation and temperature ranks by climate division. Numbers listed are ranks of each season's average value out of the last 128 years, dating back to 1895. Shaded cells are ranks in the top or bottom 25% of their respective seasonal lists (green=wetter; yellow/orange=drier; red/pink=warmer).
Precipitation

Temperature

Division

1Q

2Q

3Q

4Q

Year

Division

1Q

2Q

3Q

4Q

Year

Northwest

43

9

25

12

5

Northwest

62

40

7

69

36

North Central

56

53

38

21

25

North Central

55

40

33

80

40

Northeast

68

79

28

58

41

Northeast

57

54

36

87

49

West Central

70

5

21

1

2

West Central

71

31

9

76

37

Central

55

77

19

31

29

Central

61

38

17

78

35

East Central

78

87

20

61

47

East Central

56

45

25

86

43

Southwest

39

20

19

2

2

Southwest

72

22

11

80

34

South Central

67

74

2

43

16

South Central

62

24

10

80

30

Southeast

60

99

1

68

29

Southeast

66

47

7

79

33

State

56

54

8

34

17

State

65

36

12

79

34
October – Driest month of 2022
With respect to percent of normal, October was the driest month of the year. Precipitation statewide averaged 0.69 inches, or 30% of normal. There were a few locations in the state where no precipitation was observed the entire month, including Cimarron (Gray County), Scott City, and Johnson (Stanton County). Both Dodge City and Garden City had just a trace of moisture for the month. This tied for the driest October on record at both locations.
The DSCI climbed another 38 points during the month, reaching 364 by the October 25th issuance of the weekly US Drought Monitor. One-third of Kansas was in D4 drought status, the highest amount since February 2013. Similarly, the DSCI of 364 was the highest since April, 2013.
Figure 8. Percent of normal precipitation during October 2022 by Kansas climate division. Source: National Centers for Environmental Information
November – Much needed rain for some areas
The eastern third of Kansas averaged from 2.8 to 3.5 inches of precipitation, which was 136 to 174% of normal. But the western third was below normal, as was north central Kansas. Northwest Kansas had just 0.02 inches (3% of normal), and west central had only 0.04 inches (6% of normal). November 4 and 5 were very wet. Northeast, east central and south central Kansas received from 2 to 4 inches of rain during that 2-day period, which exceeded monthly normals in many locations. Higher amounts include Holton (3.80 inches), Manhattan (2.71 inches), and Emporia (2.68 inches). November 4th ranked as the wettest single day of the year at Olathe, Emporia, and Lawrence.
Thanks to better moisture, the DSCI decreased 19 points to 345 during the month. But the entire state remained in drought status, with 35% in D4, the highest percentage of any US state at the time.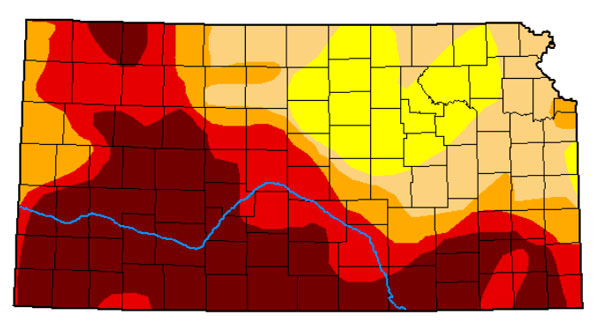 Figure 9. US Drought Monitor map for Kansas as of November 29, 2022.
December – Extreme cold and a white Christmas
An Arctic cold front swept across the state on December 21 and 22, bringing Kansas the coldest air in nearly two years. Temperatures fell to below zero across the entire state on 22. Morning lows were as cold as -19°F in Sherman County. Daytime temperatures stayed near or below zero as well, setting over 60 daily records for coldest daily maximums. Light snow accompanied the frontal passage, leaving 1 to 3" of snow across much of the state. The cold air lingered through Christmas Day, resulting in the first white Christmas in at least five years across parts of northern and eastern Kansas.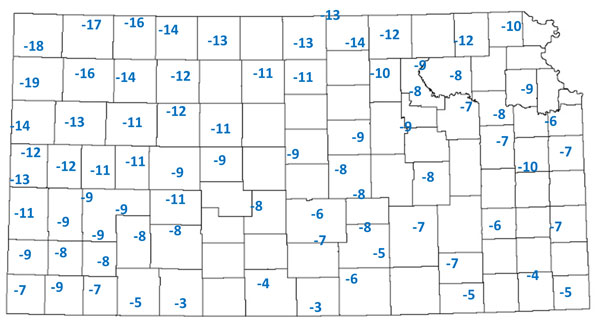 Figure 10. Coldest temperatures observed by the Kansas Mesonet sites during December 2022. Data from Kansas Mesonet.
Keep informed on the latest weather and climate outlooks heading into spring 2023 through the Extension Agronomy eUpdate!
Matthew Sittel, Assistant State Climatologist
msittel@ksu.edu