All interested individuals are invited to attend the 2021 East Central Experiment Field Day on Wednesday, August 18, at 9:00 a.m. The event will be held at the Ottawa Experiment Field (From I-35 at Ottawa proceed south 1.7 miles on 59 Hwy, go east 1 mile, and south 0.75 mile).
This is a free event and no pre-registration is required. Registration will begin at 9 am with coffee and doughnuts provided. The program will start at 9:30 am. There will be a lunch at noon after the conclusion of the program. Commercial pesticide applicator credits have been approved.
Topics and speakers:
Integrated weed management in current herbicide-resistant soybean systems – Dr. Sarah Lancaster, Tyler Meyeres, and Chad Lammers
Soil health measurements in a 12-year crop residue removal study – Dr. DeAnn Presley
Managing your corn to increase input efficiency and yields – Dr. Ignacio Ciampitti
Managing soybeans to increase yield and quality – Dr. Andres Froes De Borja Reis
Operation weed eradication – Katie Stratham
Please contact the East-Central Research Station at 785-242-5616 at least two days prior to this event if accommodations are needed for persons with disabilities or special requirements.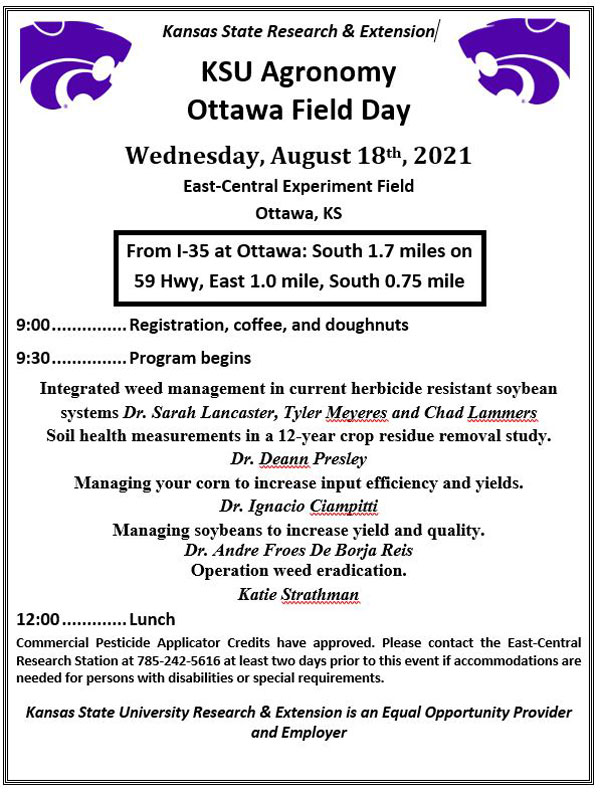 Tags: Fall Field Day