Be sure to get registered to attend one of the 2020 Crop Pest Management Schools scheduled in December 2020. Each school will start at 7:50 am with registration and conclude at 5:00 pm. A lunch will be provided to all participants. The cost to attend is $40. Each school will feature a variety of topics on weed control, insects, and diseases.
Registration information for all three schools is included below along with agendas for Russell and Phillipsburg (Figures 1 & 2). The dates and locations of each school are:
December 8 – Russell, KS
Fossil Creek Hotel
Dole-Specter Conference Center
Register by Monday, November 30 at www.midway.ksu.edu or by phone by calling either the Russell office at 785-483-3157 or the Ellsworth office at 785-474-4442. Attendance is limited to 50 people.
December 9 – Phillipsburg, KS
Huck Boyd Community Center
Register by Monday, November 30. Contact Cody Miller at 785-543-6845 or codym@ksu.edu
Payment will be taken at the door (cash or check only)
December 10 – Oakley, KS
Buffalo Bill Cultural Center
Register online at https://bit.ly/368GXvG. For questions, please contact using email/phone at bainc@ksu.edu 785-743-6361

Commercial applicator and Certified Crop Advisor credits have been applied for.
For more information, please visit: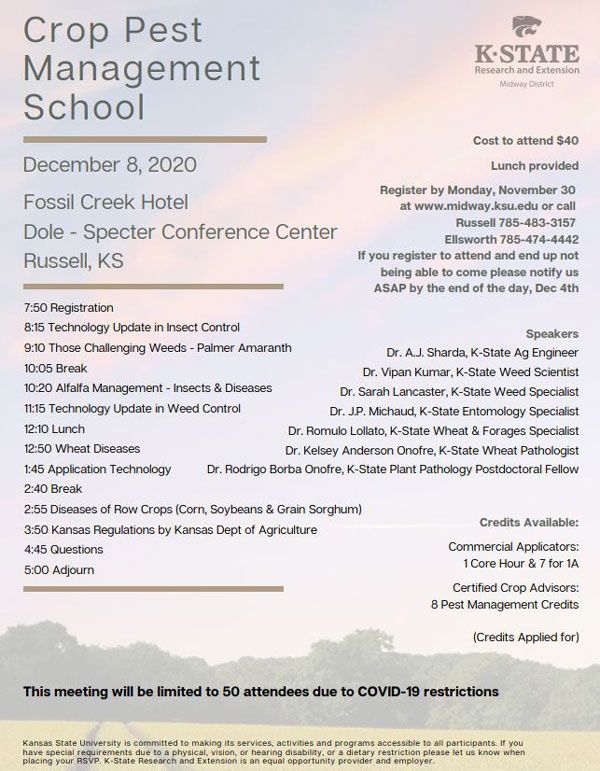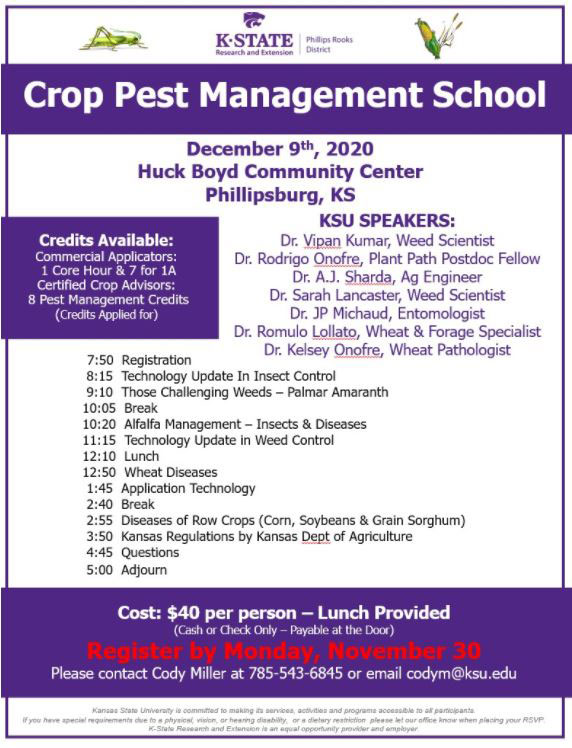 Tags: Crop Pest Schools